OCB specializes in the art of media blasting on
all types of surfaces. Regardless of whether
your project includes . . .

OCB has a new plasma cutting machine.
Watch video . . .


There are numerous types of substrates
such as . . .


We are certified and have the equipment
and expertise to apply . . .


To see more of what we can do, just click on
the Break Away Vans or you can
visit breakawayvanco.com . . .

To see more of what we do click on Additional
Photos to take you to our facebook page.
Olson Custom Blasting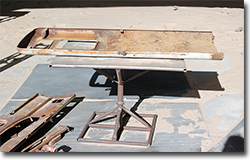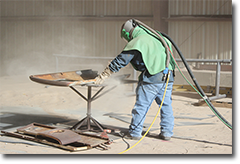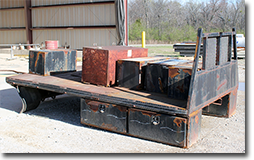 ABOUT US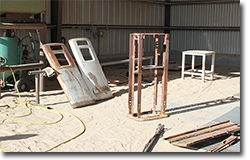 Located in the Wagoner Industrial Park, near downtown Wagoner, Oklahoma, OCB is just 45 minutes from the Tulsa International Airport. Our company is a complete 'Turn-key Operation' that provides a wide array of services to its customer base. OCB operates from its new 5,350 square foot industrial building, secured by 3 acres of fenced land. Regardless of the size, our large detached and covered blasting area is capable of handling everything from huge vehicles such as farm equipment, tractors or utility trucks down to very small equipment or special projects.
With over 15 years of experience in both media blasting and steel fabrication, OCB has the facility, the equipment, the experience and expertise to take on the most difficult and challenging projects. We also design, replicate, fabricate, blast and paint numerous types, styles, sizes and shapes of metal signs and marques. Our professional in-house spray booth was engineered to accommodate virtually any size project.
In Addition:
OCB also specializes in concrete surface preparation by grinding, blasting, scarifying and high pressure water blasting. Using 'Rapid curing' epoxy, urethane and cementitious materials we repair spalled concrete, damaged control and expansion joints as well as major random cracks. OCB installs the latest technologhy in Polyaspartic Decorative Floor coatings as well as Industrial and Commercial Epoxy Systems and highly corrosive resistant NOVOLAC epoxies for either dry or damp concrete surfaces in extreme environments. Moisture Vapor Barrier and Water Proofing cement slabs is just
one more survice OCB offers.
At Olson Custom Blasting & Fabrication we take pride in knowing all of our
customers will receive the highest quality of workmanship on each and every project we do.